New York Magazine, June 17, 2012

Nine options for those who like to swim, bodysurf, eat by the ocean, or simply dance poolside in a bikini and stilettos.
By
Julie Earle-Levine
Surf Life a Dolphin
Ever since pro-surfer Keith Malloy's bodysurfing documentary Come Hell or High Water hit the festival circuit last year, beachgoers have been itching to pull on flippers, grab a hand plane, and shoot the curl. "You can't learn to surf without bodysurfing first," says local coach Di Mattison (lessons: $120 to $200; 415-577-7237). Rockaway Beach, already popular with wave junkies like Imagine Swimming co-founder Lars Merseburg (pictured), offers beckoning breaks at 63rd and 90th Streets. Other go-to spots include Ditch Plains in Montauk; Gilgo Beach for more forceful, farther-flung breaks; and the less-crowded Lido Beach, ideal for learners because of its gentle waves. What's the big draw? "You feel in-sync with nature, like a dolphin skimming the water," says Merseburg. "Once you're in a barrel sans board, you're just hooked."
Swim With the Masses
Whatever your opinion on public pools, let alone Williamsburg and its inked constituents, there's no denying that anticipation is high for the June 28 reopening of McCarren Park Pool. A Moses–La Guardia brainchild, McCarren first opened in 1936 along with ten other city pools as part of a WPA initiative. It fit up to 6,800 swimmers and remained operational till 1984, when it was shuttered for renovation. The pit was more or less abandoned until 2005, when bands like Wilco began using it for concerts. Now a $50 million revamp has once again transformed the space into a 1,500-capacity pool, newly U-shaped and cerulean-blue. A concrete "beach" with spray fountains bisects a kiddie area and 25-meter lap lanes; come winter, the city plans to turn the deck into an ice rink. But why think about winter now?
Hours: Daily 11 a.m. to 7 p.m.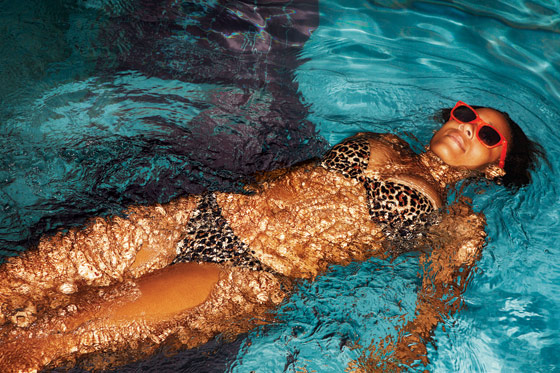 Party On, Party People
Nowhere is the city's singles scene more thriving than at its rooftop-pool parties. Unattached models, actors, and ­fashion-industry types flock to the Jimmy at the James's hotel pool soirées, which started last summer but now boast international D.J.'s like LionDub and Belinda Becker, plus a new cocktail menu coming in July. Bikini-clad girls in heels and the power brokers who try to woo them populate the Sunday pool parties at Gansevoort Park Avenue (pictured). In its sophomore year, the series marks the only time the heated rooftop pool opens to the public—and even then, access is only guaranteed with bottle-service reservations (from $100). The Thompson LES, meanwhile, has added new Topshop/Topman fashion parties (July 5, August 2, and September 6, from 6 to 10 p.m.) to its regular lineup. Expect beach balls aplenty, a pop-up clothing boutique, and a pool packed with libidinous twentysomethings. The vibe is sexy, so dress to scandalize.
Let Them Get Wet
Just try walking a kid past a gushing hydrant in the heat of summer. You can't. They want in. Offer a legal alternative by diverting them to the newly reconstructed J. J. Byrne Playground in Park Slope (pictured), where a water pump and spray showers guarantee giddy soakings. Juniper Valley Park in Middle Village, meanwhile, was built on a swamp, and so its play area is wetland-themed, complete with sprinklers masquerading as cattails and dragonflies.
Take It All Off
Asbury Park's proposal to go topless is dead in the water, which makes Gunnison Beach in Sandy Hook New Jersey's only legal spot for au naturel sunbathing, easily accessed via the aptly named Seastreak ferries ($26 to $45; seastreak.com). Play volleyball and Frisbee in your birthday suit when Nude Recreation Week kicks off July 9. The family-friendly outings include naked Hula-Hooping and a July 14 body-painting contest sponsored by the American Association for Nude Recreation, which is gunning for a multisite Guinness record for the most number of painted bodies.
Reconsider Coney
The beach and boardwalk at Coney Island span 400 acres, but that's hardly enough to accommodate the seething mass of humanity that pours onto them every summer—11 million at last count. All that flesh, plus the dizzying noise and the sunbaked stench of overflowing trash cans, sends some New Yorkers running for quieter shores. But what a shame when embracing Coney can be so crazy-fun. Ride the clattering Cyclone, which turns 85 this year, then book it to Luna Park, where a go-kart racetrack and Boardwalk Flight, a free-fall ride that swings 200 feet up in the air at 60 miles per hour, have been unveiled. Pizza, if you can stomach it, awaits at the forthcoming Coney outpost of Grimaldi's (1215 Surf Ave., nr. W. 12th St.; no phone yet).
Charter Your Own Yacht
Hamptonites eager to nab a table at Montauk's scene-y Navy Beach restaurant can slip in by booking out Heron Yacht Charter's 63-foot, custom-built catamaran. The cedar boat, set to arrive in the hamlet by July 1, sails right up to the restaurant, guaranteeing those onboard a spot for dinner. (Navy Beach considers it eye candy for landlubbers.) Private cruises run from Montauk to Block Island or Sunset Beach, making swimming and fishing pit stops as requested. Routes cost $150 per guest, with a minimum of six guests, and include food, wine, and co-captains Cameron and Shannon McLellan. For sea dogs with time to spare, longer trips to Nantucket, Martha's Vineyard, and Maine can be arranged.